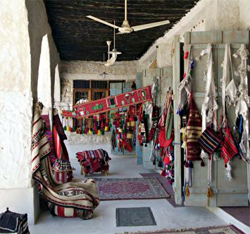 Souq Waqif
Souq Waqif is one of the most popular attraction in Doha and a visit not to be missed.
Opening hours:
The Souq is open from 10am to 12pm and from 4pm to 10pm.
About Souq Waqif:
Located in the very heart of Doha, a stone throw from the Corniche, Souq Waqif is an ancient market where bedouin tribespeople once traded their meat, camel milk, wool, ... for all goods not available to them in the desert just a couple of miles away. Of course things have changed and nomadic Bedouins have now deserted the place. However Souq Waqif is still a boyant and very popular market where Qataris shop for spices or herbs, perfumes, incenses (used as a sign of hospitality within the Qatari private homes), traditional clothes and also Shisha pots and pipes, camel blankets... Souq Waqif has been redesigned in 2004 but the atmosphere of old days is still there. Just aside numerous tiny wooden booths are occupied by cobblers, typists, ... Visitors will also find many restaurants and coffee shops to taste traditional Qatari & Middle East food. A place to see when visiting Doha.
History and pictures
For additional information about history and pictures gallery refer to: www.soukwaqif.com