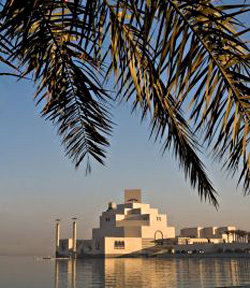 Visit Doha
History: The city of Doha was founded in 1850 as Al-Bida. The city was made capital of the British protectorate of Qatar in 1916, and remained so when, in 1971, the nation won independence. Britain indeed decided to withdraw from the Arabian Gulf area at this time. Qatar then adopted a provisional constitution declaring itself an independent Arab country with an official religion of Islam, using Shari'ah as the prime source of legislation and Traditional Arabic as an official language. The Al Thani family formally became the ruling dynasty.
For more information about History, Demographics, Districts, Economy please refer to wikipedia encyclopedia: More about Doha on wikipedia
Places to see
You plan a trip to Doha ? Take time to discover this ever changing city. See Al Bida Park, The Corniche, Al Koot Fort, the Museum of Islamic Arts, the National Museum, Souq Waqif and the Spiral Mosque or Pearl of Qatar artificial island, ... Doha has a lot to offer. Here is our city guide reviewing the best places to see. Also consider the page dedicated to things to do
Al Bida Park & Corniche
Along the Corniche, near the National Theatre, the park has a number of attractions including a cafeteria and small group of shop. There is a water feature, Ferris wheel and for kids, a half-pipe for skateboarding and roller-blading... Read more
Traditional souqs
Doha counts many sougs but the most famous and popular is Souq Waqif. Located in the very heart of Doha, a stone throw from the Corniche, Souq Waqif is an ancient market where bedouin tribespeople once traded their meat, camel milk, wool, ... Read more
Museum of Islamic Arts
The MIA (Museum of Islamic Arts) is one of the prominent tourist attraction in Doha. The museum is featuring an amazing priceless collection of masterpieces dating from 7th to 19th century and made in countries of Islamic World... Read more
National Museum of Qatar
Tne Qatar National Museum is dedicated to Qatar history and traditions. It features an interesting collection of photographs of the nomadic Bedouin tribesmen living in the desert and also a unique collection of islamic coins... Read more
Spiral Mosque
Spiral mosque of the Kassem Darwish Fakhroo Islamic Centre is a recent construction - It has become in a few years one of Doha's most famous landmarks. This is not a traditional Qatari mosque but a replica of the Great Mosque of Al-Mutawwakil in Samarra Iraq. Read more
Pearl of Qatar
The Pearl of Qatar is an artificial island created immediately east of the West Bay shoreline a few kilometers north of Doha City center. This talked about project has now come true and the first marinas have been fully completed and opened to public late 2009. Read more
Al Koot Fort
Also known as the Doha Fort, this Moorish-style fort has display of traditional craftsand paintings. It is collated at the corner of Doha's Jasim bin Mohammed and Al Qalaa Streets, near the old souq area.
Doha Zoo
Doha's Municipal Zoo is situated on the outskirts of Doha, about half an hour's drive from the town centre. There are plenty of shaded viewing areas as well as extensive play facilities for children. The zoo is open from 3 pm to 9 pm daily except for Saturdays.

Tourism: Visit Qatar
Doha is of course not the only place of interest in Qatar ! There is much more to be seen... like the cities of Al Wakra, Khor Al Udaid, Al Ruwais, Al Khor with its picturesque harbour and spectacular beaches, Al Zubara with its famous old fort. Other places to see include the Inland Sea surrounded by sand dunes or the Alshahaniya Camels Race Track. Visit Qatar - Tourism