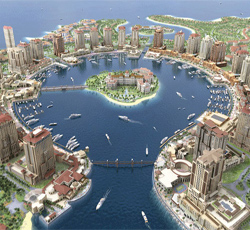 The Pearl of Qatar
Address: West Bay - Doha - Qatar
United Development Company (UDC)
Telephone: (974) 486 5225 - Fax: (974) 486 5225
Website: www.thepearlqatar.com
About project: The Pearl of Qatar is an artificial island created immediately east of the West Bay shoreline a few kilometers north of Doha City center. This talked about project that has been developed by United Development Company (UDC) has now come true and the first marinas have been fully completed and opened to public late 2009.
Facts and figures: Once finished this new island will add 32 kilometers of coast to Qatar and feature not less than 16000 luxury apartments and villas (A few of them with private beaches), corporate offices, three modern marinas (Over 800 boats capacity), three 5 Star hotels, numerous restaurants and luxury fashion boutiques, three primary schools and a secondary school. More than 40.000 international residents should soon be living here: The Pearl of Qatar will indeed be the first land of the country to be possibly owned by non Qataris.
Date, pictures, live cam and investment opportunities
Date: Final completion date is end of 2011.
Information: For Pictures gallery, Live Cam or details about investment opportunities please refer to official website.