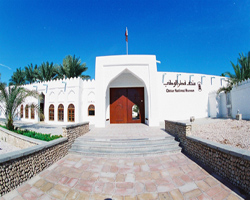 Qatar National Museum
Address: Al Corniche PO Box 2777 Doha - Qatar
Opening hours:
Qatar National Museum has been closed in 2007 for a complete extension and renovation program. It is due to open in 2012. For more information please contact the Qatar Museums Authority.Telephone: (974) 486 5225 - Fax: (974) 486 5225
Website: Qatar Museums Authority
History: The Museum was inaugurated the 23rd of June 1975 in a Old Palace first built in 1901 to host government offices.
Visit and collections: It is dedicated to Qatar history and traditions. It features an interesting collection of photographs of the nomadic Bedouin tribesmen living in the desert and also a unique collection of islamic coins.
New project - Jean Nouvel Architect
The place was closed between 2002 and 2006 for renovation but the opening of the MIA canibalized most of visitors and it was decided the Museum site to be totally revamped to make it a real place of exception. Few has been said about the new project by Architect Jean Nouvel (Paris Arab World Institute & Quai Branly Museum, Reina Sofia Museum in Madrid, Copenhagen Concert Hall, New Louvre Museum in Abu Dhabi ...) but according to Roger Mandle, Executive Director of QMA it should "take away peoples breath when we announce it"...