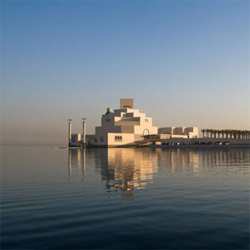 Museum of Islamic Arts
Address: Al Corniche PO Box 2777 Doha - Qatar
Telephone: (974) 486 5225 - Fax: (974) 486 5225
Website: Museum of Islamic Arts
Opening hours & admission fee
Opening hours: 10.30am to 5.30pm except Friday (2.00pm - 8.00pm). Closed on Tuesday.
Ticket: Admission to the MIA is free. However visitors must get entrance tickets from the ticketing counter. Temporary exhibitions visit have an entrance fee.
About Museum of Islamic Arts: The MIA (Museum of Islamic Arts) is one of the prominent tourist attraction in Doha. The museum is featuring an amazing priceless collection of masterpieces (mostly manuscripts and ceramics but also ivory, wood and metalwork, precious stones, jewellery...) dating from 7th to 19th century and made in countries of Islamic World... As well as gallery space the museum has a library and study, restaurant, hanging gardens and water garden with fountain. Visitors will also admire the unique architecture of the Museum with its multiple angular volumes playing with sunlight and its amazing 45 meters high sheet of glass offering breathtaking views over the blue waters of the Gulf. The building was designed by famous architect I. M. Pei (Louvre Museum Pyramid, China Bank Tower in Hong Kong, Washington DC National Gallery of Art). The Islamic Museum of Arts is certainly one of the best places to see when visiting Doha. Not to be missed.