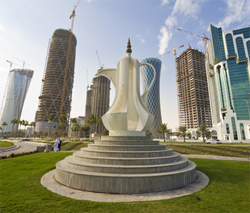 The Corniche
The Corniche is to Doha what Champs Elysees are to Paris: The most famous and trendy avenue of the city. The Corniche promenade is stretching on 7 kilometers from Museum of Islamic Arts to pyramidal Sheraton Hotel. Walking along the bay is very popular in Doha and many qataris and expatriates come here in the late afternoon and gather in the numerous grass areas or parks (Al-Rumaila Park) to play with kids or to play soccer, which Qataris are passionate about.
The Corniche is a place to go to indulge yourself in the true atmosphere of Doha and to enjoy spectacular views of the Skyline and the Persian Gulf blue waters however walking the all distance may be quite hard in the hottest months.
Palm Tree Island
Another famous attraction is located in the middle of the bay facing the Corniche: The Palm Tree Island. What was formely only a sandbank has been transformed into a family recreation place with a seafood restaurant - The Palm Tree Island is only ten minutes Dhow boat ride from the Sheraton Hotel jetty. It offers a great view on Doha's Skyline.