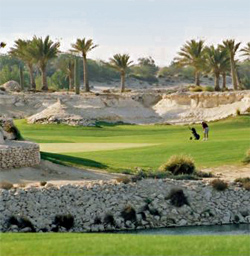 Doha Golf Club
Address: West Bay PO Box 13530 Doha
Telephone: (974) 496 0777 - Fax: (974) 483 4790
Website: www.dohagolfclub.com
Opening hours & green fees
Opening hours: 10.30am to 5.30pm
Green Fees: Golf is accessible by non-members of the Club - Green fees range from 200 (9holes) to 590 (18 holes).
About Doha Golf Club: Doha has a very nice Golf course featuring a 18 holes Championship Course course (designed by Peter Harradine) and an Academy 9 holes championship course. Doha Golf Club has hosted many world class events like the PGA Championship tournament Qatar Masters. The par 72 course measures 7,312 yards and is reputated quite difficult with eight artificial lakes along most of the holes - The utmost accuracy will be required! The Academy Course is much easier and can be played and enjoyed by beginners. Players should be aware that during the day the heat may be disturbing game therefore it is wise to wear a hat and to drink a lot along the way. Green fees usually include buggys.
Qatar Golf Masters
The prestigious Qatar Masters was first held at Doha Golf Club in 1998. The Qatar masters count fot the PGA Championship - one of the biggest golf tours in the world. This Golf Course is spectacular as very few areas have restricted access and spectators can follow players freely. Date: In January. Official website: www.qatar-masters.com