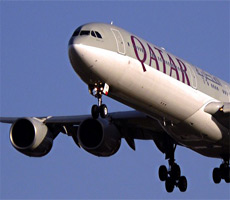 Doha International Airport
Address: Al Corniche PO Box 2777 Doha - Qatar
Telephone: (974) 486 5225 - Fax: (974) 486 5225
Website: Doha airport
In term of passenger trafic Doha is one of the fastest growing airport in the world and a major hub in the Middle East (behind Dubaï). It is home of national carrier Qatar Airways. The construction of a new airport was decided in 2003. It is due to open late 2011 (More details below).
The current airport is the first one to have dedicated a private terminal to First Class passengers. Complimentary WiFi internet access is available at Qatar Airways First and Business class lounges, and at the Oryx lounge for First and Business class passengers travelling on other airlines or passengers availing of Al Maha services. The Qatar Airways premium terminal in Doha includes a Relaxation area: Spa treatment, sauna, Jacuzzi, ... Photos: Premium Qatar airways terminal
Airport transportation: Taxis - Chauffeur driven cars
Airport transfer should be arranged with the hotel before arrival - All of them offer shuttle services (sometimes for free). Other transportation include limousine - chauffeur driven cars and taxi services (Available at the airport) - Price between 30-75QR depending on service.
Taxis fares: Pick up is 18 Qrs then 1.20 Qrs per km inside Doha (during the day) and 1.80 Qrs by night or outsite City limits. More information: Tel: 4588888
Limousines - Chauffeur driven cars: Here is a list of dependable limousine services operating private executive airport transfers in Doha:
Doha Limousine - Telephone: 4839999
Al Watan Limousine - Telephone: 4477999
Mustafawi Limousine - Telephone: 4671007
Qatar Limousine - Telephone: 4868688
Elite Limousine (Stretch) - Telephone: 4426184
Read more about: Hotels near the airport - Car rental - Doha New International airport